Puma returns to BB Centrum and two more buildings leased out
The Alpha and Beta buildings in Prague's multifunctional BB Centrum complex, the creation of which is the work of the development and investment company PASSERINVEST GROUP, have received new tenants. More than 9000 m2 of office space has been rented here since last year. Cebia, spol. s r.o., a leader on the market for verifying the origin and history of vehicles and SoftwareONE Czech Republic s.r.o., helping its clients with the administration of their software portfolio, moved into the ALPHA building, while the ČEZ Group significantly expanded their existing spaces here. BETA building got UPS, the global shipping company, which located its headquarters for Central and Eastern Europe here on a space of more than 1000 m2, and other tenants include Rocket Fuel Czech Services s.r.o., a predictive marketing software company and Puma, the producer of sportswear, which leased more than 700 m2 of offices. 
Puma Czech Republic s.r.o., which leased 750 m2 of office space on the fifth storey of the Beta project, is returning to BB Centrum after a number of years spent in Karlín. "We truly appreciate the return of such a significant client as Puma, the successful manufacturer of sportswear and sporting goods, undoubtedly is. For us it is proof that, with its more than twenty years of history, BB Centrum is an attractive, modern and sought-after address," commented Vladimír Klouda, the Executive Director of PASSERINVEST GROUP, a.s. In addition to Puma, UPS and Rocket Fuel Czech Services s.r.o., the companies HIKVISION Czech s.r.o., a producer of monitoring cameras, UNIPROG SOLUTIONS, a.s., a provider of IT products and services and Timken, a manufacturer of industrial bearings, all also moved into the Beta building. 
Last year the Alpha building underwent a revitalisation of its external and part of its internal spaces. At the current time it is almost 90% full. During the course of this year, Techona s.r.o., which deals with the development and distribution of online gaming interfaces and platforms, Frequentis Czech Republic s.r.o., an international supplier of communication and information systems for air traffic control centres, and the IT company Neoware s.r.o. also located their seats here.
For more information and photographs in print quality please contact: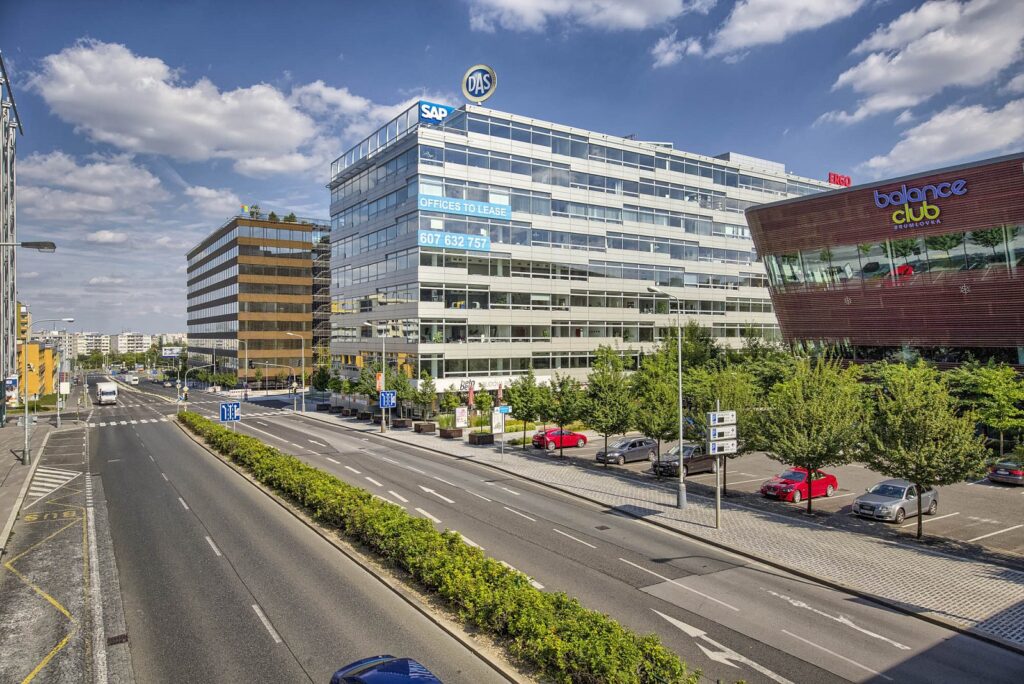 Building Beta in BB Centrum
For more information and photos in print quality, please contact us.
Kristýna Samková
Head of PR and Marketing department
Kamila Žitňáková
Crest Communications a.s.
PASSERINVEST GROUP, a. s.
Passerinvest Group (hereinafter Passerinvest) is a purely Czech builder and investor. The company was founded by Radim Passer back in 1991 and has since then acquired a lot of experience in the construction of office and commercial buildings, residential buildings and civic amenities.
Since 1998, Passerinvest, as a responsible urban developer, has primarily been connected with Brumlovka (BB Centrum) in Prague 4, which is one of the most successful and extensive urban projects not only in the Czech Republic, but throughout all of Europe. Another important project in the company's portfolio is Nové Roztyly, a brownfield of the former slaughterhouses of the Interlov complex where, in the future, a place with pleasant housing with a large park should arise, complemented by services for the general public and an office function. The principles of urban construction and the long-term sustainable development of Prague and the Czech Republic are part of Passerinvest Group's vision. Thanks to its responsible approach, Passerinvest has built a very good reputation both on a domestic and on an international level. This is not only to the credit of the quality of the realised projects and the high level of the provided services, but also to the sense of fair play, a customer approach and also its responsibility to the society and the environment.