Passerinvest has built a playground in Nové Roztyly Park for its smallest visitors
Passerinvest Group has built a playground for the smallest visitors of Nové Roztyly Park, which is located in the vicinity of the brownfield of the former Interlov slaughterhouse. The playground is equipped with all kinds of swings, a rope pyramid to climb on, the popular spring rockers and new benches. The publicly-accessible playground is located under mature trees providing pleasant shade. The total expenses for the construction of the new playground, which was built during February and March, reached 300,000 crowns.
The playground went up in a site that is most frequently visited by families with small children thanks to the grown trees, well-maintained grass and its sufficient distance from the road. "We already built leisure, entertainment and sports features for all age categories in the park before. Visitors can find here, for example, a parkour course, a workout field, a running track, a disc golf course and other options for sports and leisure. With this we wanted to give the smallest visitors something to do. We believe that it will bring the same joy to parents who come here for a picnic, to relax or for group sport lessons," explained Martin Unger, the Technical Director of Passerinvest Group.
The cosy playground should pleasantly entertain the smallest children, while simultaneously not disturbing the peace and quiet enjoyed by other visitors to the park. It is equipped with seven attractions. These are meant for children between two and twelve years of age.
"There are 70 playgrounds in Jižní Město that the city district administers and it pays for their maintenance from its budget. These playgrounds are very popular and provide children with the much-needed opportunity to spend their free time exercising and playing. Of course, we are therefore very pleased when someone, on their own initiative, builds another such publicly-accessible playground, moreover in a locality where something similar has been lacking for such little ones," stated Jakub Lepš, the Deputy Mayor of Prague 11.
Passerinvest has long been cultivating Nové Roztyly Park, which is directly connected to the Krč Forest, supplementing it with features for sports and leisure. You can find more information on the possibilities of activities in Nové Roztyly Park at www.krcakzije.cz.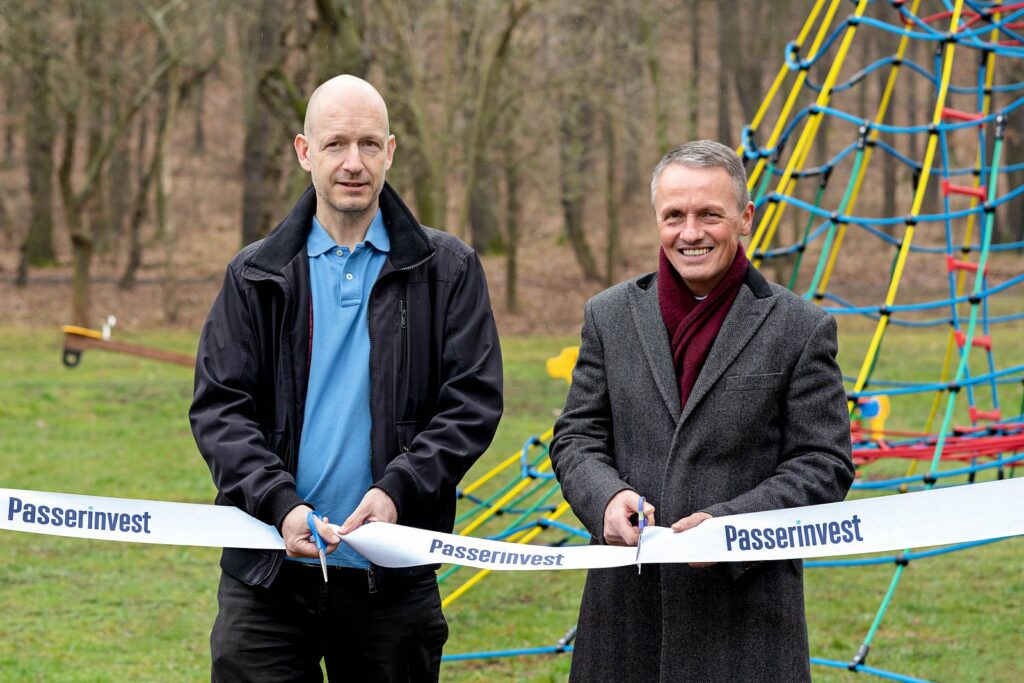 Passerinvest has built a playground in Nové Roztyly Park for its smallest visitors
For more information and photos in print quality, please contact us.
Kristýna Samková
Head of PR and Marketing department
Kamila Žitňáková
Crest Communications a.s.
PASSERINVEST GROUP, a. s.
Passerinvest Group (hereinafter Passerinvest) is a purely Czech builder and investor. The company was founded by Radim Passer back in 1991 and has since then acquired a lot of experience in the construction of office and commercial buildings, residential buildings and civic amenities.
Since 1998, Passerinvest, as a responsible urban developer, has primarily been connected with Brumlovka (BB Centrum) in Prague 4, which is one of the most successful and extensive urban projects not only in the Czech Republic, but throughout all of Europe. Another important project in the company's portfolio is Nové Roztyly, a brownfield of the former slaughterhouses of the Interlov complex where, in the future, a place with pleasant housing with a large park should arise, complemented by services for the general public and an office function. The principles of urban construction and the long-term sustainable development of Prague and the Czech Republic are part of Passerinvest Group's vision. Thanks to its responsible approach, Passerinvest has built a very good reputation both on a domestic and on an international level. This is not only to the credit of the quality of the realised projects and the high level of the provided services, but also to the sense of fair play, a customer approach and also its responsibility to the society and the environment.