Balance Club Brumlovka Opens Newly-Renovated Terrace
Balance Club Brumlovka recently held the gala opening of its newly-renovated relaxation terrace, which now offers significantly expanded services as part of the Club's Aqua & Relax Zone. Visitors can look forward to new saunas, relaxation areas with lounge chairs and seating in both indoor and outdoor areas, a plethora of greenery, and a wellness area featuring a whirlpool and other water elements.
The renovated terrace now offers two Finnish saunas with beautifully designed panelling of alder wood. New relaxation rooms with lounge chairs were added as well as everything needed for maximum comfort and ultimate relaxation. New showers offer three modes – classic, rain shower, and massage. Two new water elements have been installed in the outdoor areas – a stainless-steel whirlpool with 36°C water and a chilling pool with 10°C water. The pools are complemented by a relaxation zone with lounge chairs and a view of newly-planted greenery. The terrace and its facilities will be open to Balance Club Brumlovka members year-round. The total cost of the terrace renovation was over CZK 17 million.
Over the past year, Balance Club Brumlovka has also completely renovated the fitness center, adding new Technogym machines from the ARTIS and SELECTION PRO lines, which combine respect for the body's natural movements with the latest technologies. For example, the ARTIS RUN UNITY treadmill is unique for its wide touchscreen with individual connection to digital broadcasting and the internet. The fitness center also features an Octagon exercise frame by Escape Fitness. This unit offers a pull-up bar, a dip station, a rope pulley, a boxing bag, and a bounce zone for exercising with medicine balls.
Balance Club Brumlovka operates on a membership basis. The Club offers the latest trends in its approach to health and a sports-oriented lifestyle and strives to educate the public on how to create harmony between mind, body, and soul. This philosophy is put into practice by its extensive, highly-professional team of trainers, instructors, massage therapists, and other employees with a pro-client approach. In addition to exercise facilities, Club members also have access to a wide variety of related activities and lectures.
Balance Club Brumlovka is located in the BB Centrum multifunctional complex in the BRUMLOVKA Building. It covers an area of 5,000 m2 and its investor is PASSERINVEST GROUP.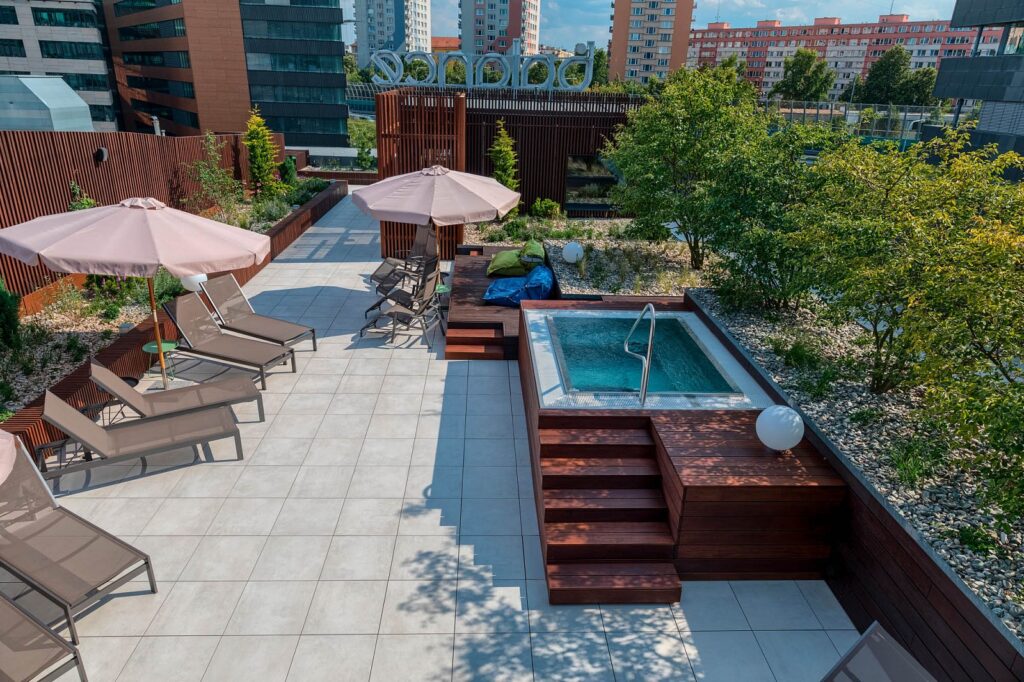 Relax v BB Centru
For more information and photos in print quality, please contact us.
Kristýna Samková
Head of PR and Marketing department
Kamila Žitňáková
Crest Communications a.s.
PASSERINVEST GROUP, a. s.
Passerinvest Group (hereinafter Passerinvest) is a purely Czech builder and investor. The company was founded by Radim Passer back in 1991 and has since then acquired a lot of experience in the construction of office and commercial buildings, residential buildings and civic amenities.
Since 1998, Passerinvest, as a responsible urban developer, has primarily been connected with Brumlovka (BB Centrum) in Prague 4, which is one of the most successful and extensive urban projects not only in the Czech Republic, but throughout all of Europe. Another important project in the company's portfolio is Nové Roztyly, a brownfield of the former slaughterhouses of the Interlov complex where, in the future, a place with pleasant housing with a large park should arise, complemented by services for the general public and an office function. The principles of urban construction and the long-term sustainable development of Prague and the Czech Republic are part of Passerinvest Group's vision. Thanks to its responsible approach, Passerinvest has built a very good reputation both on a domestic and on an international level. This is not only to the credit of the quality of the realised projects and the high level of the provided services, but also to the sense of fair play, a customer approach and also its responsibility to the society and the environment.